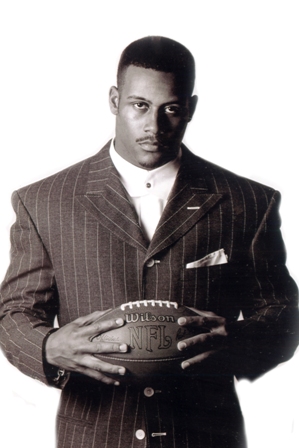 Ty Law is a two time All-Pro, a five time Pro Bowl selection, a Pro Bowl MVP, and a future NFL Hall of Famer.

He has won three Super Bowl Championships with the New England Patriots, and his 53 career interceptions rank 22nd all-time.
Ty Law graduated from Aliquippa High School in 1992 where he played football and basketball. He was a football standout, playing cornerback, safety, wide receiver, and running back. Ty was a prominent member of the Aliquippa 1991 PIAA AA State Championship team, one of his most treasured accomplishments. He was a Pennsylvania Big 33 All-Star, and he was named to Parade Magazine's High School All-American Team in 1991. In 1990, he was a recipient of the Ron Vincich Underclassman Award, MAC AA Football top 22 defense, and Fabulous 22, 1990-91, and was an MVP for his school's basketball team.
In 1992, Ty was the first true freshman to start at the University of Michigan. At Michigan Ty earned first-team All-American honors from Walter Camp and was a two-time unanimous All-Big Ten Conference selection. In his junior year he entered the NFL draft.
Ty was drafted 23rd overall in the first round of the 1995 NFL draft by the New England Patriots, where he spent the majority of his career, with four Super Bowl appearances. In 1998 he led the league with nine interceptions, the first time any Patriot had led the league in interceptions. Ty earned Super Bowl rings with the Patriots in 2001, 2003, and 2004. In 2003 he was part of a record-breaking Pats defense that led the NFL in four key categories: opponents' points per game, opponents' passer rating, interceptions, and passing touchdowns surrendered. In the 2003 AFC Championship game against the Colts, he intercepted three passes from Peyton Manning, the NFL's best quarterback, assisting his team to a 24-14 win and their second Super Bowl appearance in three years, where they defeated the Carolina Panthers, 32-29. On March 30, 2009, the Patriots' Hall of Fame committee selected Ty Law as a member of the Patriots 50th Anniversary and All-Decade teams.
Ty signed with the Jets for the 2005 season, where he amassed a career-high 10 interceptions and was the only Jet player selected for the Pro Bowl: he also played for the Jets in 2008. Ty played one season for the Kansas City Chiefs and one season with the Denver Broncos. In 2010, the NFL Hall of Fame Committee named Ty to the 2000s All Decade Team.
During his pro career, for two consecutive years, Ty was a celebrity sponsor for the Ty Law Golf Outing and celebrity basketball game, which benefited the Beaver County Head Start Program. As a pro, Ty continued to recognize his Beaver County roots. During his introductions for televised NFL games, when most players would reference their college, you would hear him proudly claim, "Ty Law, Aliquippa."
Ty is the son of Diane Law of Aliquippa. He is also the proud father of three children, Tiaja, Tajuan II, and Phoenix.